[ad_1]

Adventurous Kate contains affiliate links. If you make a purchase through these links, I will earn a commission at no extra cost to you. Thanks!
Well, something very big happened this month — Charlie and I got married! After nearly four years together, we had the city hall wedding of our dreams on April 28, 2023.
This was the first of our three weddings — the small, legal wedding. After this one we have our big Prague wedding in late May, and our smaller Boston wedding in early July.
Google AdS
Read on for the wedding — and more adventures in this past month.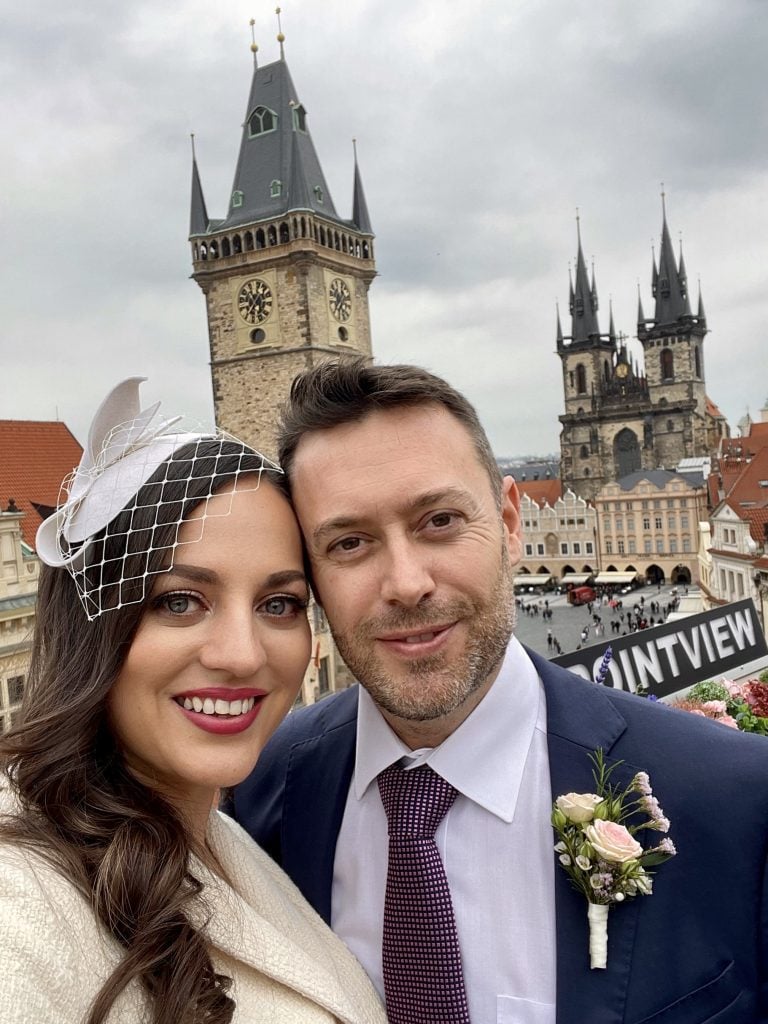 Destinations Visited
Prague, Karlštejn, Únětice, and Karlovy Vary, Czech Republic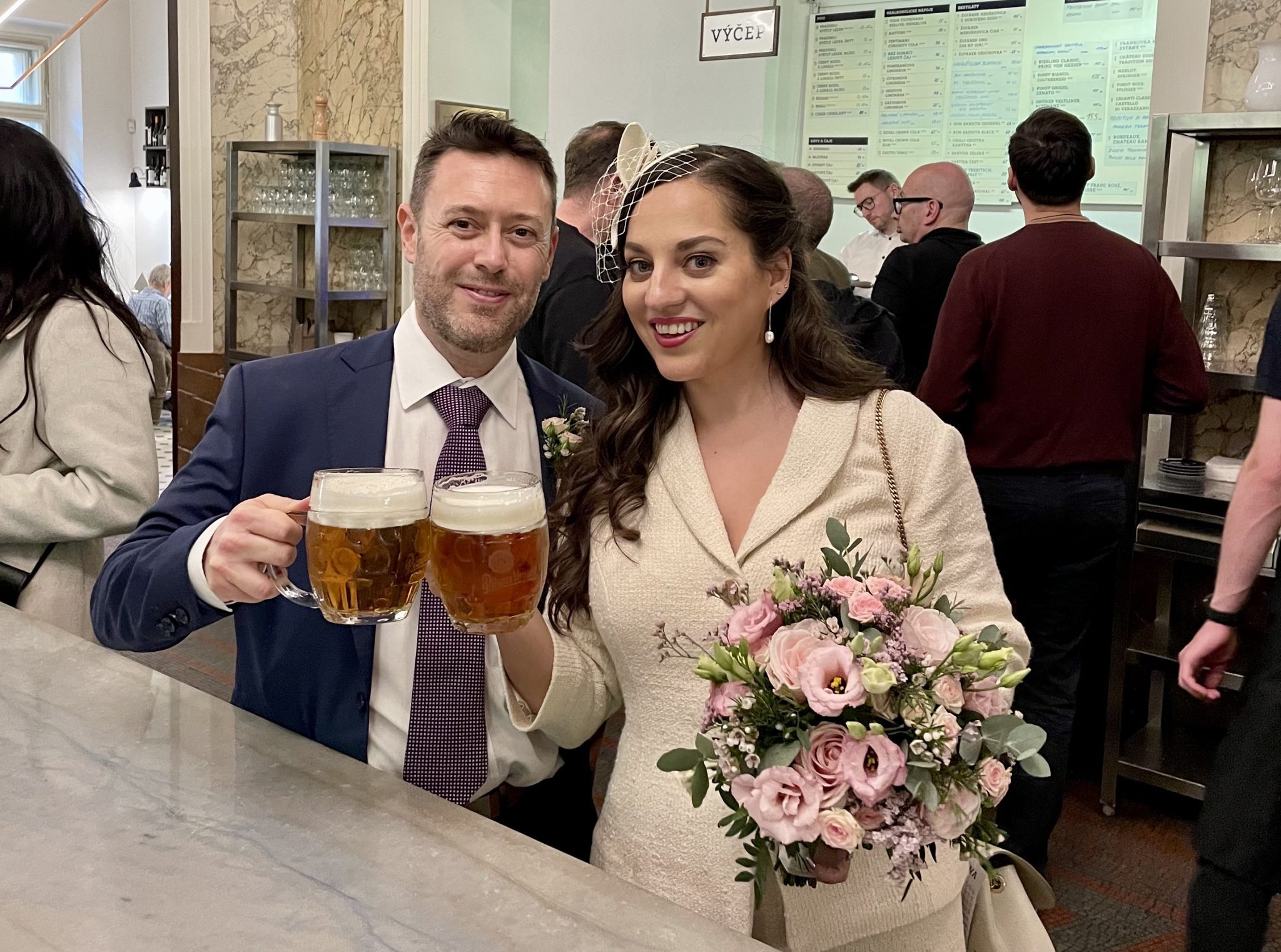 Highlights
Getting married! It was an awesome day and we had a blast!
Some details: I wore an ivory Gaâla skirt suit with a matching fascinator and gold Jonak pumps. Charlie wore a navy suit with a white shirt and a purple tie. I carried a cat-safe bouquet with pale pink roses and freesia; Charlie wore a matching boutonniere.
We walked into the town hall on Old Town Square; made vows that were officiated by a city councilor wearing a lot of gold medals; listened to hyped up organ versions of Mozart's overture to The Magic Flute, Tonight from West Side Story, All You Need is Love by the Beatles, and Handel's Arrival of the Queen of Sheba (we had to choose four songs from a very random collection!); signed some papers; and walked out of the building into a crowd waiting for the astronomical clock to do its hourly show.
Our friends Klara and Aeon served as witnesses. Afterward we headed across the street to U Prince, a rooftop bar with the best view over the square, and shared a bottle of Prosecco. Then we headed to Kantyna, our favorite restaurant, for carpaccio, tartare, steak, and beer. Then a cupcake place nearby. Then Bugsy's Bar for craft cocktails. And a return home at a reasonable hour!
All in all, a great day, and I'm so glad I got to have the simple courthouse wedding experience. It really pares it down to what matters.
If you're planning a complicated wedding — multiple nationalities or locations — I highly recommend doing the legal wedding on your own ahead of time! It's such a relief to know that the paperwork is DONE so we can focus on having a great time.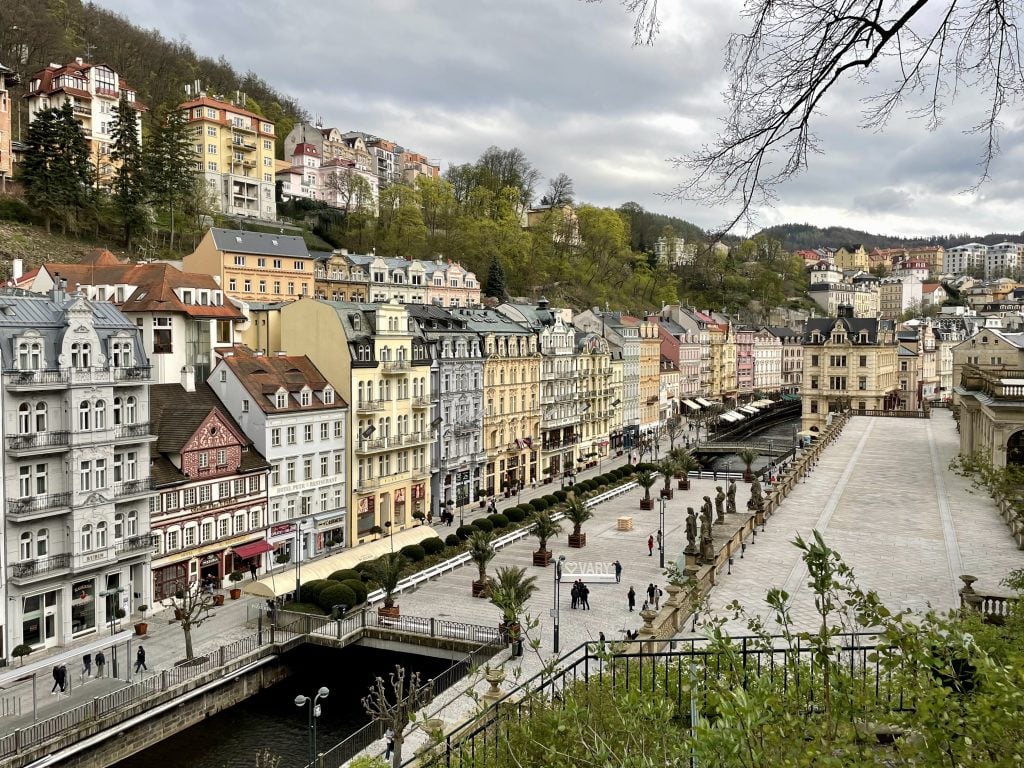 Micro-mooning in Karlovy Vary. The day after the wedding, Charlie and I headed to Karlovy Vary, a gorgeous spa town in West Bohemia, just an hour and 45 minutes from Prague. What a fantastic little place! I can't believe it took so long for me to visit.
We stayed at the five-star Hotel Olympik and enjoyed a balcony with a view over town, as well as a spa in the basement. Some of the highlights were walking around the town and sipping on spa waters from our special cups, hiking down from the hill above town and enjoying the views; spending an afternoon at the heated outdoor pool at Hotel Thermal; and eating lots of great food, especially at Le Marché.
I couldn't imagine heading off on a huge honeymoon immediately after a wedding. Most of my friends have done low-key weekends away after their weddings, saving the honeymoon for a later date, and I can now confirm that that's a GREAT idea.
(As for the big honeymoon, what's next? In June, we're going to the island of Ischia for a few days, and in November and December we're going to Chile and Argentina for a MONTH!)
Google AdS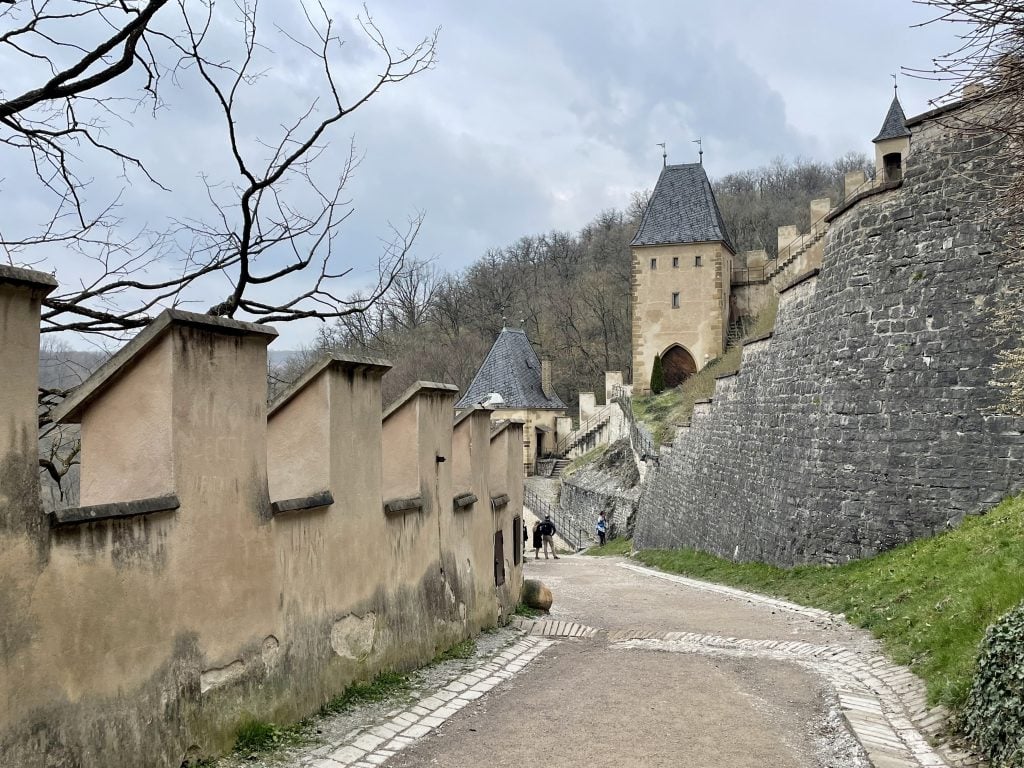 Visiting Karlštejn Castle. This castle is located just outside Prague in the town of Karlštejn, and it's one of the most popular day trips from Prague. You can get there by train if you'd like, though we ended up driving.
Worth visiting? Sure. It was interesting to see. I really enjoyed the tour and some of the unusual architectural features of the castle, like a cool wood-patterned room. Do I think it's the best day trip from Prague, though? No. That would be Kutná Hora, which I think packs a much bigger punch.
Enjoying the first beautiful day of the year in Únětice. I mention Únětice on my list of unusual things to do in Prague, and we went to the brewery to enjoy a Celtic festival. It was absolutely GORGEOUS — and super-crowded. Everyone was enjoying the sunshine and some beers!
Easter markets in Prague. Did you know that Prague has Easter markets? They're pretty similar to the Christmas markets (in fact…nearly identical, except for swapping out the handicrafts), only they're in the spring months. Fun times.
Choosing my birthday trip. I haven't gone on a trip for my last two birthdays, and really wanted to this year. So Charlie and I are going to Montenegro and Croatia! We'll be doing a few new things — staying in Perast rather than my usual Kotor, and visiting new places, like Durmitor National Park in Montenegro and the Elafiti Islands in Croatia.
Challenges
Keeping the apartment clean with three cats. Baliček, our friends' cat, spent most of the month with us, and he is the sweetest, most loving cat, waking us up by purring at the top of his lungs.
However, the dude is messy. When he's at his house, he uses a covered litter box and flings the litter in a million directions. But at our house, we have open litter boxes and if an open litter box is an option, he will go there and fling litter all over the bathroom!
You'd think the solution would be buying covered litter boxes for all. NOPE. Murray is terrified of covered litter boxes, and if he sees one, even if there's an open litter box next to it, he gets so scared, he goes into another room and pees on the floor.
So this was a month of constant sweeping and vacuuming and yelling, "Noooooo!" when Baliček turned the bathroom into the Sahara for the fifth time that day.
And then Baliček had to go home, and I cried. He and Murray really got to be good friends! (Lewis tolerated him.) But seeing him curled up in his two-year-old human sister's arms was worth it.
Making a rookie cheese mistake. This month our dishwasher and freezer were on their last legs, so we decided to replace them both, as well as the refrigerator. (In Prague, this isn't something the landlord covers — even when you rent, you pay for your own large appliances.)
Well, this happened to coincide with French week at Lidl, with lots of cool cheeses for sale. We bought a few and introduced them to the new fridge.
It's been a few weeks and THE BRAND NEW FRIDGE STILL SMELLS LIKE STINKY FRENCH CHEESE. We messed that one up!!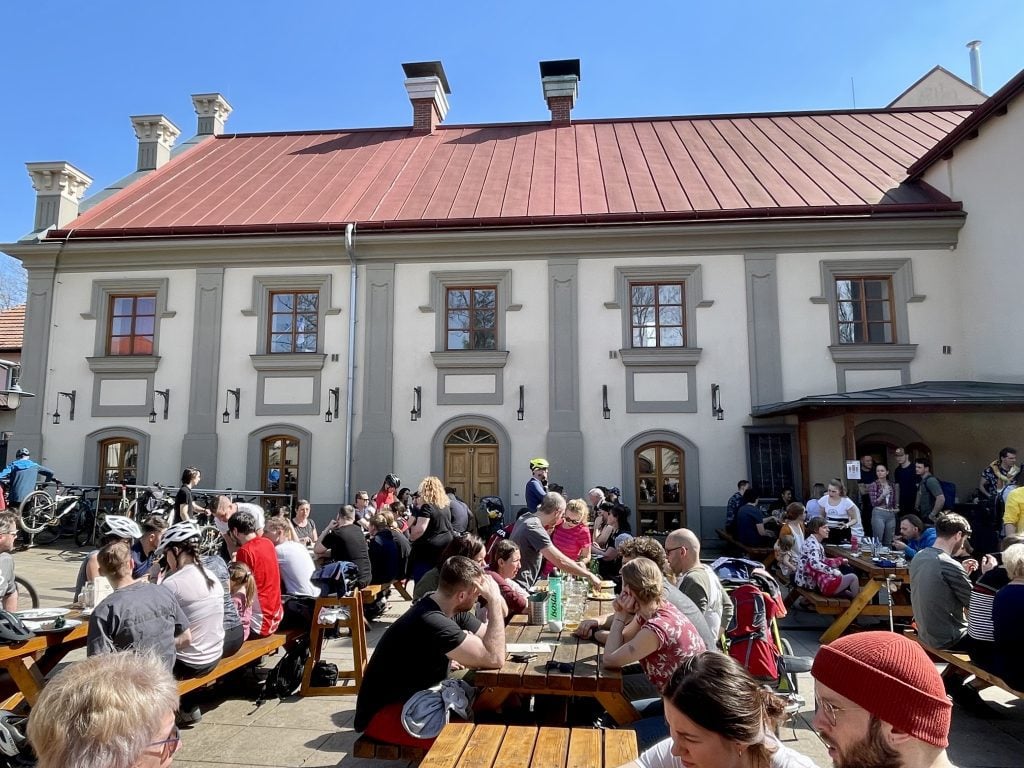 Blog Posts of the Month
21 Quirky and Unusual Things to Do in Prague — Wow, I finally wrote a Prague post! And it's an AWESOME one! Here are some awesome things to do in Prague beyond seeing the castle and the Charles Bridge. This is what my friends and I do around Prague!
17 Best Prague Restaurants — Another long-overdue Prague post! I wrote this so I can have something easy to send to people who want to know where they should eat. Prague has a FANTASTIC dining scene and you should go way beyond Czech food here.
29 Cool Things to Do in Zagreb, Croatia — It was about time I finally published a dedicated Zagreb post to supplement all my Croatia content! Zagreb is absolutely worth visiting, even if you're only in Croatia for the islands and beaches.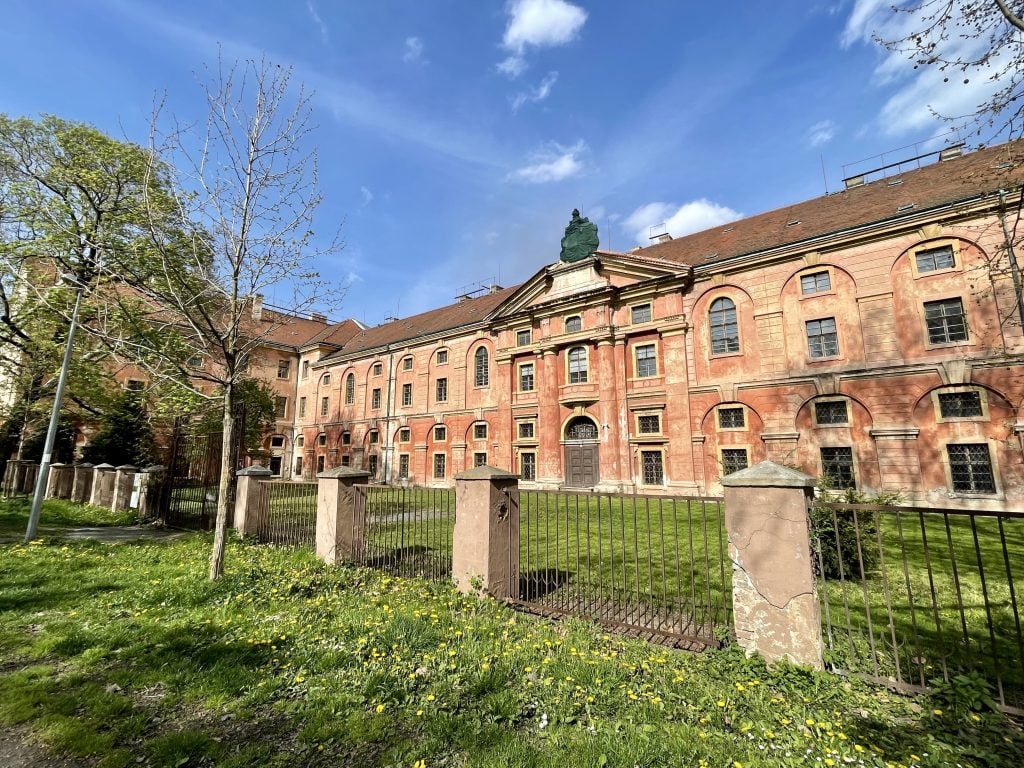 This Month on Patreon
On the Adventurous Kate Patreon, I publish exclusive content and never-told stories that you can access for $6 per month. We also have a private Facebook group and members get free access to the Book Club each month.
This month, I actually wrote about one of my non-travel hobbies — thrifting cheap designer clothes online. I absolutely LOVE doing this, but the stakes are high when you can't try items on and you can't return them. I used to make SO many mistakes, but now I'm good at it, so I decided to share my best tips.
I share a ton of tips for making sure you're buying a piece you will actually love wearing. (One underrated tip — DOUBLE CHECK THAT YOUR BLACK ITEM IS NOT ACTUALLY NAVY BLUE. This has happened multiple times. So many people can't tell the difference between navy blue and black!)
I also shared some more wedding photos in the Patreon on the day of the wedding — quick post and go!
And finally, I shared a behind-the-scenes about a business disaster that I went through once, how it exploded, and how I got through it and got it together.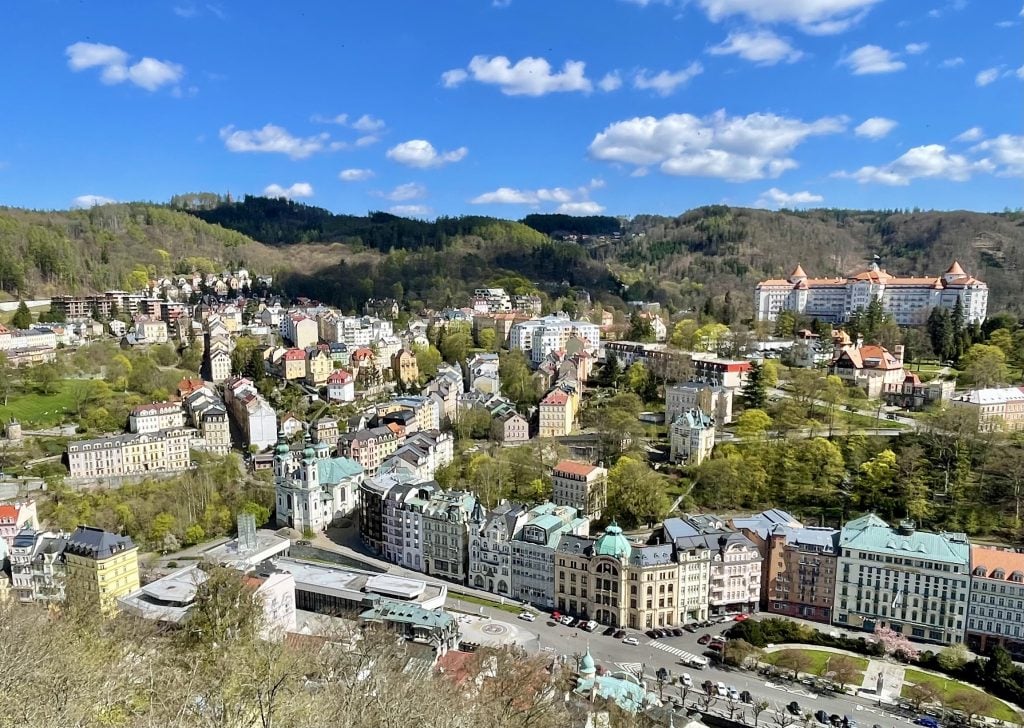 Book Club This Month
Our next book club will take place on Sunday, June 4, at 1:00 PM Eastern Time. We will be reading Aftershocks by Nadia Owusu, an American author of Armenian and Ghanaian heritage. This was one of 2021's buzziest memoirs, and made a lot of the "best of the year" lists.
You can sign up for the book club here. Patreon members have access in the Patreon.
"Young Nadia Owusu followed her father, a United Nations official, from Europe to Africa and back again. Just as she and her family settled into a new home, her father would tell them it was time to say their good-byes. The instability wrought by Nadia's nomadic childhood was deepened by family secrets and fractures, both lived and inherited.
Her Armenian American mother, who abandoned Nadia when she was two, would periodically reappear, only to vanish again. Her father, a Ghanaian, the great hero of her life, died when she was 13. After his passing, Nadia's stepmother weighed her down with a revelation that was either a bombshell secret or a lie, rife with shaming innuendo.
With these and other ruptures, Nadia arrived in New York as a young woman feeling stateless, motherless, and uncertain about her future, yet eager to find her own identity. What followed, however, were periods of depression in which she struggled to hold herself and her siblings together.
"A magnificent, complex assessment of selfhood and why it matters" (Elle), Aftershocks depicts the way she hauled herself from the wreckage of her life's perpetual quaking, the means by which she has finally come to understand that the only ground firm enough to count on is the one written into existence by her own hand."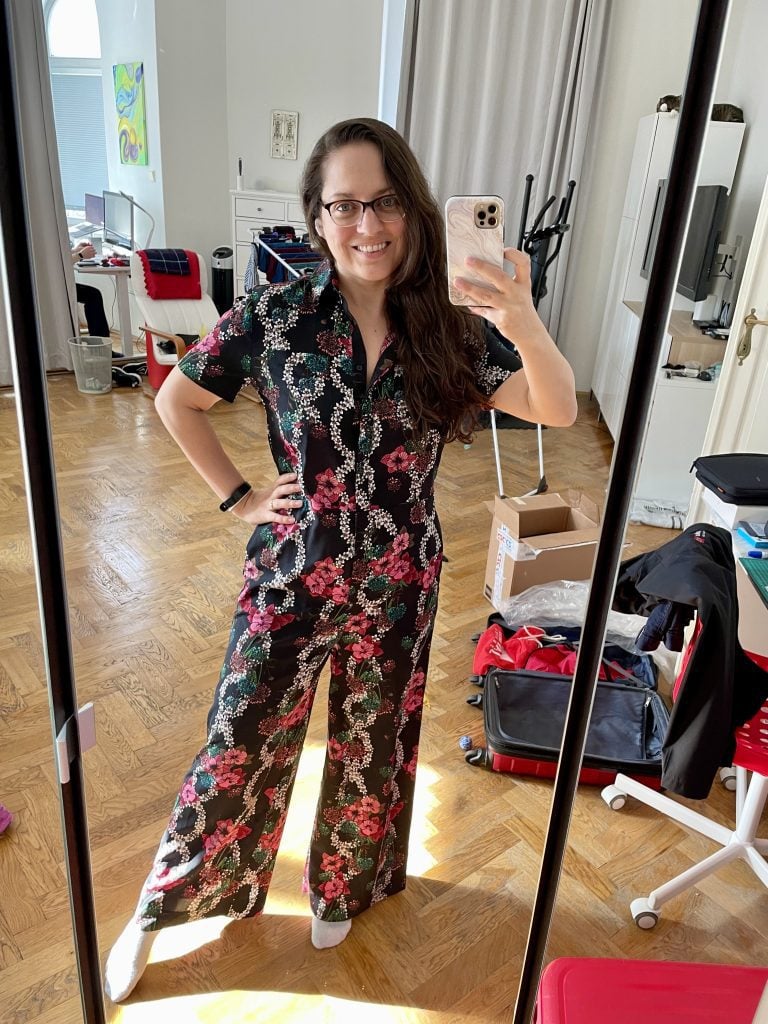 Fashion Find of the Month
Sometimes you find a designer item for sale that gives you good vibes — and then it arrives and fits like a DREAM. For me it was this Sandro jumpsuit. I fell in love with it the moment I saw it. I double-checked the lie-flat measurements, determined it would fit, and ordered it.
Then it was delivered and I could not believe how PERFECTLY it fit me!! Jumpsuits can be really tough to get right, but this was made for me. I didn't even have to hem the legs! (Because it's technically a cropped jumpsuit and I'm 5'4″ so the legs were normal for once!)
And I have an occasion to wear it — for my bachelorette afternoon tea the day before our Boston wedding.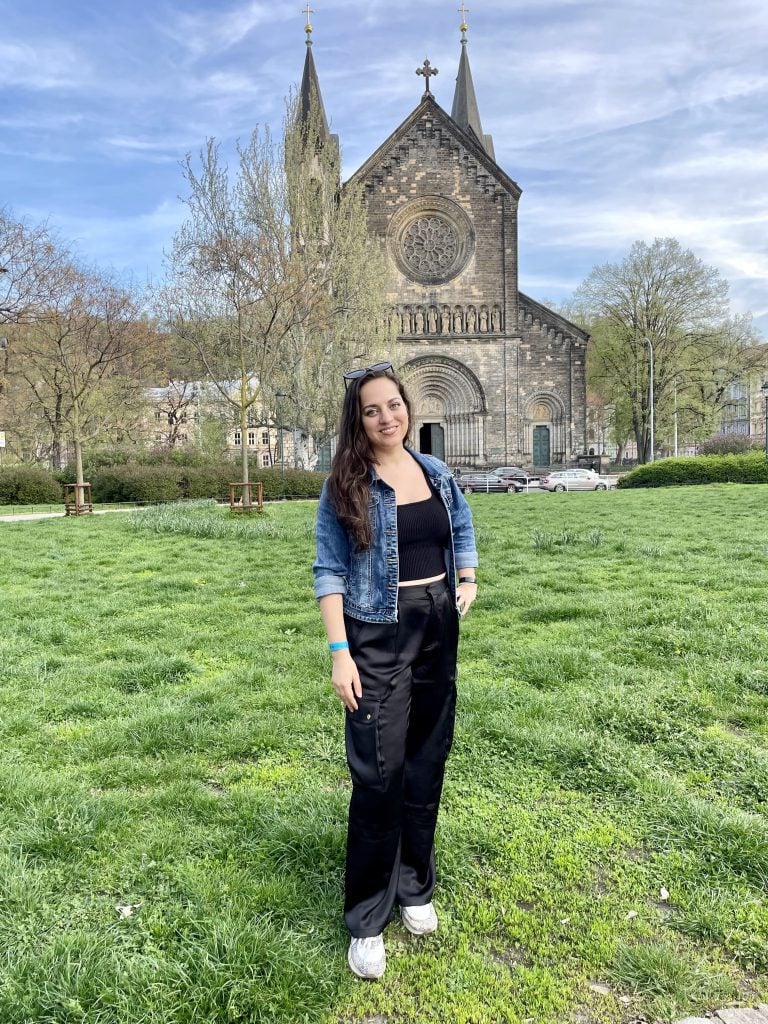 I also found the BEST pants this month. Black satin cargo pants by Maje, probably my favorite brand of the moment. I did buy these new, and they were pricey, but THEY FALL SO PERFECTLY AND BEAUTIFULLY. I feel like a member of TLC in them!
I tried these on at the Maje store in Prague, on a whim — then promptly tried on ten pairs of cheaper black satin cargo pants from other stores just to see if I could love them for less. And all of the cheap ones were terrible by comparison. Oh well. I ordered the good ones via the Farfetch app and got 10% off.
I got them hemmed at the tailor, and I plan to wear them a LOT this summer.
What I Watched This Month
Yellowjackets is back! Yellowjackets is probably my favorite show of the last few years — a drama about a girls' high school soccer team that crashed in the Canadian Rockies and were stranded there for years. There were always rumors that they resorted to cannibalism, which they denied, but what REALLY happened out there?
I won't spoil anything, but I will say that season two has DELIVERED SATISFYINGLY, and that's before what people are calling the best episode of the season airs this Friday.
I also watched Daisy Jones & the Six, a miniseries that I very much enjoyed. I had read the book previously. I loved the aesthetics and a lot of the music was so much better than it had to be! While I think it could have been stretched out into more episodes, and there were a few too many cliches for my taste, it was a fun watch.
Below Deck update: Charlie and I have now finished Below Deck Med seasions 3-5, Below Deck seasons 8-9, Below Deck Sailing Yacht season 1, and are halfway through the only season of Below Deck Down Under.
Our takeaways from Sailing Yacht Season One: Captain Glenn is cool! Sailing looks like the opposite of luxury! Those party dudes from Long Island were the worst guests of all time! And the Jenna-Adam romance is perhaps one of the worst on-show romances ever between two terrible people!
Our takeaways from Below Deck Down Under Season One: Aesha is the best! Forking the anchor is insane! Chef Ryan is the worst human they've ever had on this show! Culver the mulleted entertainment officer is hilarious! Captain Jason is cool!
What I Read This Month
The Latecomer by Jean Hanff Korelitz (2022) — This novel tells the story of the unhappy Oppenheimer family. After years of fertility problems, parents Johannah and Sallo welcome triplets in 1982 — three of the first test tube babies. But the triplets despise each other from birth, nothing like the happy family Johannah had envisioned, and as they are about to enter college, she decides to bring their final frozen embryo to birth. This latecomer throws their lives into further chaos.
My sister recommended this book to me, and I'm so glad she did — it's probably my favorite book of the year so far. This is a long, in-depth study of a family, and all the crises, major and minor, that befall them. And the miracle is that none of the characters are likable — seriously, none of them — but I wanted to spend so much more time with them, learning about what led them to be the way they were. Honestly, this book could have been twice as long!
I highly recommend getting this as an audiobook if possible — the book is narrated by award-winning voice actor Julia Whelan, and her efforts make it such a pleasure to listen to. I walked a LOT while listening to this.
I'm moving on to more of Jean Hanff Korelitz's work now, starting with The Plot.
Coming Up in May 2023
It's the BIG Prague wedding month! Our Prague wedding is taking place at the end of the month, and people are flying in from around the world. We're having about 100 guests total.
(Yes, if you follow other travel bloggers who keep mentioning they have an upcoming trip to Prague for a wedding — it's mine. Hehehe. We've got a lot of travel blogger friends coming, and I appreciate their discretion.)
Since a lot of people are coming from so far away, we're adding in several activities and events, making it into a three-day extravaganza. Beyond that, we want to show our loved ones the best of Prague in late spring, its best time of year.
That is the one and only thing taking place in May! Cannot wait to celebrate with tons of friends and family.
What are your plans for May 2023? Share away!
Get email updates from KateNever miss a post. Unsubscribe anytime!
[ad_2]
Google AdS